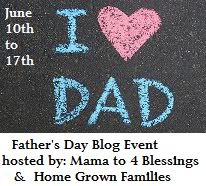 Thank you for stopping by The I Love Dad - Father's Day Giveaway Hop Event, hosted by Mama to 4 Blessings and Home Grown Families! This event will take place from June 10th at 12:01am EST to June 17th at 11:59pm EST. For this event we will be celebrating Dads! Which means we will be offering things Dads love for giveaways! After entering my fantstic giveaway be sure to visit each blog from the linky below the Rafflecopter and enter for your chance to win
some really amazing prizes valued at 20+!
I think one of the most important lessons in life is that you can't take things with you when you go. This is an important thing for me to remind myself of as a review blogger and personally. I often send on the products I review to a good home and I only pursue coupon deals on products in the amounts I will actually use. All that to say I try not to hang on to anything I'm not actually using. We can't take all our stuff with us when we go and it can be a burden to our kids to leave a lot of junk behind. But one thing it's good to hang on to, because they can be passed on, is treasured memories. With Father's Day right around the corner I am already thinking about the memories we have made since my husband became a father just a year and half ago. I want our son to know what it was like growing up in our home and have tangible memories he can look back on one day. This giveaway features two sponsors for just that purpose that can help us record our lives and leave true treasures behind for our families long after we are gone.
First up is Journal 10, now in its 16th edition from Because Time Flies, Inc. To learn more about starting your own 10 year journal visit
www.journal10.com.
I am a big fan of the reality series The Bachlorette, and if you are too, you may recognize Ali Federtowski as she shares what she loves about Journal 10 with you in the video below:
My husband has been keeping a prayer and thankfulness journal for a number of years. He has a keepsake box that is now filling up with journals that are only big enough to hold one or two years of thoughts. How neat that for the next 10 years he can write those prayers and thanks in just one book. Not only is it a space saver, but it will feel like this chronicled time capsule of some of the most important years of our lives: the years we started our family and (Lord willing) watched it grow. I think my husband is going to love receiving this as a Father's Day present. It will mean so much more than just a trinket that sits on a shelf.
Here are some more of the great things about Journal 10:
As you make each entry you see what was happening on that day in previous years

Re-reading triggers memories of people, place and events otherwise forgotten

Captures personal and family development and milestones

Takes just 5 minutes a day

No pressure to fill an entire blank page

Builds over time into a family memoir
I really like the organizing features of this journal and how it is arranged. Each page is for one date across ten years listed down the page so you can see what you wrote on that day in the past years. There are also extra pages for longer posts and sections for keeping track of other personal information.
Perhaps you already journal, maybe you have thought about starting one. How about writing a journal as a family or a couple? This would also be a great gift for a recent graduate or someone else starting a new chapter in their life. The possibilities are endless, or at least they don't have to end for a good 10 years!
My next sponsor will also help you capture your memories in a meaningful way. I was recently given the opportunity to review READY STEADY SHOOT: The Guide To Great Home Video by the Emmy award winning director, producer, still photographer, and cinematographer Roger Sherman. Mr. Sherman has also been nominated twice for Academy Awards. If you are going to take advice on how to shoot a better home video this is the guy to listen to!
His photography has appeared in Town & Country, Saveur, Budget Travel, and Newsweek.
MORE ABOUT ROGER SHERMAN THE FILM MAKER:
This is not a guide book on what super fancy camera to buy and how to edit clips in some complicated program into your own little film feature, but rather a book that gives you some tips on how to shoot your daughter's ballet recital or your son's soccer game without making grandma and grandpa dizzy to the point of nausea as they watch the tape later. Anyone can put these tips to use even if their camera is their iPhone.
Even the book made for "dummies" on digital video has more about technology and less about technique. That is what READY STEADY SHOOT focuses on: teaching you the techniques you need to shoot a great home video.
Mr. Sherman teaches you his own learning system called "The 10 Shot Video" as well as tips and exercises you can learn from in just a few minutes. This is the pocket guide that will have you shooting great home video in no time. The pocket guide is a 4 x 6 book that would fit easily into any camera bag or back pocket for taking along when you are traveling and doing a lot of filming. It has a modern print design on the cover and an elastic band to keep the book closed or to mark you place. I love the elastic band feature because I am sure the pages would get all bent out of shape if I threw the book in my purse for taking videos at the beach, the pool, and all the other fun places we plan to go this summer.
My husband loves to shoot videos, particularly of he and his friends in action on their mountain or BMX bikes. I gave him the book to put to use and here is what he had to say about it:
Pocket Posh's Guide to Great Home Video: Ready, Steady, Shoot is an excellent little book that's big on useful information for the home video producer, but small enough to stow anywhere to have ready wherever you're out shooting. It's a quick read, and Roger Sherman does a good job of explaining the basic techniques you can use right away to take your videos from yawn-inducing to awesome.
While video producing is a complicated and deep subject, Sherman, a professional documentary filmmaker, explains in terms that are easily understandable to someone who's just starting out shooting video, and his advice applies whether your device of choice is a point-and-shoot, DSLR, digital video recorder, or high-end film camera. There is an enormous amount of video content on the web these days, but much of it is "YouTube quality" meaning it was shot on someone's cellphone quickly, and while there's certainly a place for that, you probably want a better result when capturing your own memories. So if you want to get video that will be better than the average quality, Sherman's book is an excellent starting point for getting you there. He includes more than enough tips to enable you to dramatically increase the quality of the video you shoot.
I got about halfway through the book before I had the opportunity to put some of the techniques to use at a night BMX session at the local skatepark. Most of the guys there were better riders than me; sometimes it's inspirational, sometimes I just can't believe that the 12-year-old who's all elbows and knees can ride better than I can because I get out to the skatepark only a few times a year. See the video I shot:
In any case, I tried to put Sherman's advice to good use, at least as much as I could since I didn't want to get in the way of the riders. Some of his bigger points are:
1. Plan your shots to tell a story.
2. Don't zoom; instead move closer. (This one I wasn't able to follow as much as I would have liked since I didn't know any of the other guys and didn't want to be pushy.)
3. Move the camera deliberately and keep the shots short. No one wants to watch a video all from one vantage point as the person behind the camera zooms and pans like crazy. Even though we do this on our own, watching it as a video can make your audience sick.
Sherman highly advocates all this planning for the purpose of editing your movie as you're shooting it, rather than having to do a ton of editing later, which is very time-intensive, and I wholeheartedly agree with this approach, assuming your recording device can do this. My device is a Canon SX1 IS, which, though it can shoot high-def, doesn't allow me to pause while recording, so my session consisted of lots of small shots that I then had to edit together into one movie. So if nothing else, this book made me realize the value of a dedicated video recording device!
To sum up, if you're just a casual filmmaker, the Guide to Great Home Video is an excellent primer for making your videos look better and actually be something your family and friends will actually want to watch over and over again. The simple phrasing, great explanations, and detailed examples ensure that you'll be able to understand, and more importantly, remember the advice the next time you're shooting a home video.
At just $7.99 the book READY STEADY SHOOT is a steal and would make a great gift for father's day! Or you can enter to win an eBook copy in this giveaway!
Enter to win your Father's Day gift: The 10 year journal from journal10.com as well as an eBook copy of READY STEADY SHOOT on the Rafflecopter form below!
a Rafflecopter giveaway
Hop on over to the other blogs and enter some more giveaways!
Disclaimer: Please note that Kaeli's Kiwis and other "I Love Dad - Father's Day Giveaway Hop Event" bloggers are not responsible for sponsors that do not fulfill their prizes. We have represented each sponsor with the expectation they will fulfill their prize and in a timely manner. We will contact the sponsor regarding your prize(s). The sponsors, in most cases, are shipping their items to you directly. We will make every effort to assist you obtaining your prize. If there is an issue with a sponsor, please notify the blog you won a prize from within 4-6 weeks for assistance, after that we may be unable to assist you.
If you have any questions please let me know. Please note that I was not compensated for this post, however I did receive a sample of the product(s) to try. My opinions of these products are my own and were not influenced in anyway.