Better Late Than Never will begin on September 1st and end on September 9th. As you are hopping around, I hope you will find some prizes that you love - maybe you will even win one! Each giveaway will have a prize valued at $25 or more! Our Prenatal Vitamin gift package from Nordic Naturals here at Kaeli's Kiwis is worth $34!

As some of you know, I am expecting my second child in February 2013. Along with a proper diet and exercise, taking supplements like vitamins and DHA are a must-do for any pregnant woman. I have been pretty naseaus, so the diet and exercise part will have to come a little later, but I still make sure that along with my ginger ale and crackers, I get my vitamins and DHA every day. I am currently taking Nordic Naturals Prenatal DHA which I received to review and will give away a bottle to one lucky reader!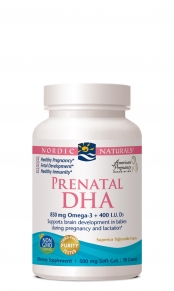 Nordic Naturals
' mission is to correct the global omega-3 deficiency. They are commited to bringing the safest and most effective DHA to market. They have been setting standards since 1995 and third party tests show leading purity and freshness of their products. They also practice
sustainability
by using wild caught fish and production that protects the enviroment. Their products have been used for medical research and there have been 20 published studies in the last 4 years analyzing the use of omega-3 supplements for a variety of physical and psychological purposes. Research shows that even the healthiest western diets do not contain enough omega-3, making supplements important for everyone, so even if you aren't pregnant like me, you should still be taking DHA.
Why take Omega-3's?
You've heard you need it, but you may still be wondering "what for?", what benefits are actually reaped by restoring balance to your system with omega supplements? Essential Fatty Acids (EFAs) help combat diseases like arthritis, diabetes, and heart disease to name a few. EFAs help with weight management, improve vision, and sharpen your attention and focus. EFAs improve your immune system and circulation. They have shown positive results in studies with depression, dementia, autism, and aggression & anger management. Nordic Naturals has developed specialized supplements for a number of the above problems.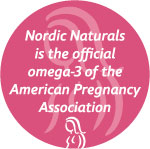 Prenatal DHA
benefits my baby by supporting my developing child's brain, eyes, immune system, and nervous system. We all want to do what is best for our children, even from the very start, and there is nothing better at this particular stage of development than taking vitamins and DHA. We gave our son Nordic Naturals Baby DHA, and will continue to supplement both his diet and his future sibling's with Nordic Naturals Children and Junior DHA products which now include gummies. Another great thing about taking Prenatal DHA is that it not only supports my baby's health but has shown to be beneficial in promoting breast-milk production, positive mood, and well-being in the mother. It also contains vitamin D-3 which is also missing in a lot of people's diets. Nordic Naturals DHA is the official DHA of the American Pregnancy Association.
I really like using this DHA for the simplest of reasons, it is not a giant pill! It is smaller than the size of an average gel cap and even though I need to take two for the recommended serving, they go down a lot smother than the giant DHA caps I was using from another company. I have tried at least 3 brands of general or prenatal DHA and this is by far the smallest pill size. This is important to me and I am sure it is for some of my readers. Can't swallow pills at all? Nordic Naturals has both an Effervescent omega-3 product in a creamy orange flavor that is ideal for kids and adults or a flavorless powder that can be mixed with an food or drink. So now you have no excuse but to take your EFAs!
SHOP NOW: Visit the
Nordic Naturals Website
or purchase from a wellness retailer. I buy my son's Baby DHA drops at Whole Foods.
Find a store near you!
WIN IT: Enter to win a bottle of Nordic Naturals Prenatal DHA and some other goodies by filling out the Rafflecopter form below! Good Luck!
a Rafflecopter giveaway
Now hop along and win some more great prizes!