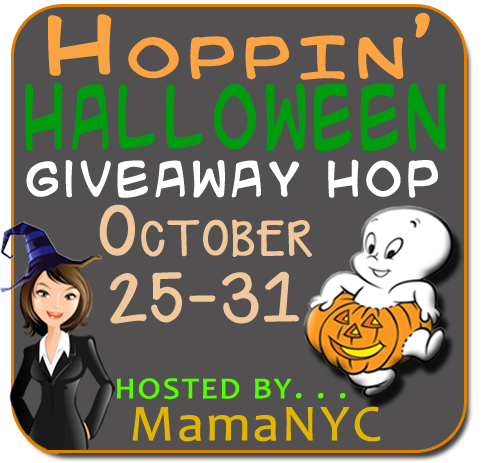 Welcome to the
Hoppin' Halloween Giveaway Hop
hosted by
MamaNYC
! We're celebrating Halloween with an amazing event that'll feature ALL sorts of prizes, which means there is going to be plenty of prizes you'll want to get your hands on! With over 90 blogs participating, Hoppin' Halloween is surely going to be a BLAST! This event will run from October 25-31st so you will definitely have plenty of time to enter all of our giveaways. Good luck and Happy Halloween!
Seasons Harvest
recently gave our family the chance to review one of their gourmet food gift packs. Seasons Harvest products are currently available in their Mother store in Harbert, Michigan and at the Farmer's Market in South Bend, or online. We choose to review the Temptation Classics Pasta Sauces, which can ship in packs of two or four or individually. Seasons Harvest gift packs make great hostess gifts or Holiday gifts. They offer a variety of gift packs such as sauces, condiments, salad dressings, dessert sauces, and even more. Each gift pack in a category is interchangeable as well, so you can arrange it exactly as you want! Wouldn't it feel wonderful to show up to Thanksgiving or Christmas dinner with a gourmet gift pack your host or hostess will surely appreciate?! You can also order any of their 63 products individually.
Check out their sale on pasta sauce going on now!
Enter 20% off coupon code
PASTASPECIAL
at checkout when prompted through November 15
We tried the pasta sauce pack of four which included 4 - 24 oz Temptation Classic Pasta Sauces including:
Vodka Sauce
,
Tomato Basil Sauce
,
Portobello Mushroom,
and
Puttanesca Sauce
. We enjoyed playing around with different pasta varieties as well as adding chicken or beef to enhance our dishes. I would have to say that I most enjoyed the Vodka Sauce, although I liked them all. It was different than most pasta sauces that I have tried since it wasn't a pure tomato base or an Alfredo sauce. It was somewhere in-between and a nice change. I also liked that the Portobello Mushroom sauce was hearty enough that I didn't need to add meat. I would recommend this one for vegetarians. My husband prefers homemade but thought the sauces were pretty impressive for throwing together a quick meal. Did I mention they are affordable too? Our pack of 4 retails for $32.50, or roughly $8 a jar. I am not sure I would ever buy this for myself, but I would definitely use Seasons Harvest for sending Holiday gifts to my hard-to-shop-for relatives such as my uncles. I am sure they would love a change from the usual sausage and cheese basket I send them.
My Husband enjoying some Portobello Mushroom Spaghetti

ORDER HOLIDAY GIFTS NOW AND SAVE!
FREE UPS GROUND SHIPPING ON ALL ORDERS $60 AND OVER!
Seasons Harvest not only offers a wide variety of gourmet food products, the also offer corporate gifting and fundraising programs. You can also find some great recipes on Facebook and a cookbook available for purchase from Chef Lynn Miller, Seasons Harvest's own Corporate Chef.
Connect with Seasons Harvest's Corporate Chef at:
Win a Temptation Classics Pasta Sauce Gift Pack from Seasons Harvest!
a Rafflecopter giveaway
Now hop on over to some other great giveaways!
<!– start InLinkz script –> <!– end InLinkz script –>
***Please note that I received no form of monetary compensation for this post. I did receive a sample of the product to try in order to write a fair and honest review. The opinions expressed in this review are my own and were not influenced in any way. Please note that I am not responsible for the delivery of this prize and can not be held accountable if, for any reason, is it not received. ***