Shutterfly recently provided me with the opportunity to create an 8x8, 20-page Photo Album using their All-New Custom Path feature, and let me just say I love Shutterfly. We used it last year to make our Christmas cards and birth announcements and I was very impressed with the quality of their products, so I was excited to work with them both in creating my album and in hosting my giveaway (keep reading for more details).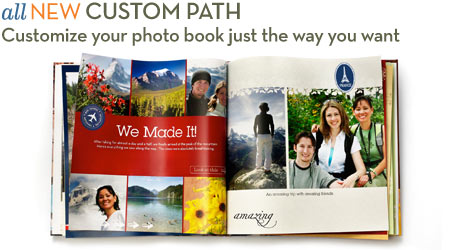 Add, move and resize pictures and text
anywhere
Extensive collection of
new backgrounds, layouts & embellishments
1-25 pictures per page
(up to 1000 pictures)
Five sizes
starting
from

$12.99
My family and I just went on a 2 week vacation, driving an RV and camping in the mountains of Idaho. I decided this would make the perfect photo book project for this reveiw. I am excited about having a professional-looking photo album without all the hassle of glue, glitter, and scissors. It seems that so many memories get lost in the extensive files of photos on my computer, so this will be a great way to keep the memories fresh and fun to show off. I love to scrapbook for real, so I can really appreciate all Shutterfly allows you to do when creating a custom photo album with their great online interface. It's like scrapbooking without the gluing-your-fingers-together part (which, being klutzy, I sometimes do!). Plus, it is so much faster and of course one of the greatest benefits of a Shutterfly album is that you can quickly make multiple albums as gifts (try that with real photos!) I will definitely have to order additional copies of this album for Christmas gifts for the grandparents and great-grandparents who also came on vacation with us.

I really enjoyed the custom path and all the photo book features. After I selected the book theme I uploaded my pictures in less time than it takes to upload to Facebook and got started. First, it gave me the option of arranging my photos by date for me. I chose this option because it would mean less work to do later grouping related photos together. The system then provided some useful tips before I got down to the nitty-gritty of page layout.
When I began arranging my pages I noticed that I had uploaded a picture that needed rotating and I was able to click and rotate as well as crop and adjust for red eye as needed. There was also the option to add photo effects such as black and white. And this was only the beginning of all the great things the Custom Path allowed me to do.
It gave me several layouts to choose from, but from there I could further customize each page beyond the basic layout by adjusting sizes, zooming in or out on my photos, or moving the placement of the photo on the page. If I didn't like the background or layout, I could change that as well. I could swap which picture was in the foreground of a group, and I could even set a picture as the background for the entire page. I love how the cover turned out and I finished my first 5 pages in about an hour, embellishments and all. I can hardly wait for the finished project to arrive so my husband and I can sit down with a cup of cocoa by the fire and remember our trip as we flip through our photo book together.
Get started on your own custom photo book by visiting
Shutterfly.com
today! While it's still early, now is a great time to make some Christmas gifts that will be extra special and meaningful to your loved ones.
Shutterfly will be giving one of my lucky readers an 8x8 20-page Photo Book of their own.
Enter to win by filling out the Rafflecopter form below!